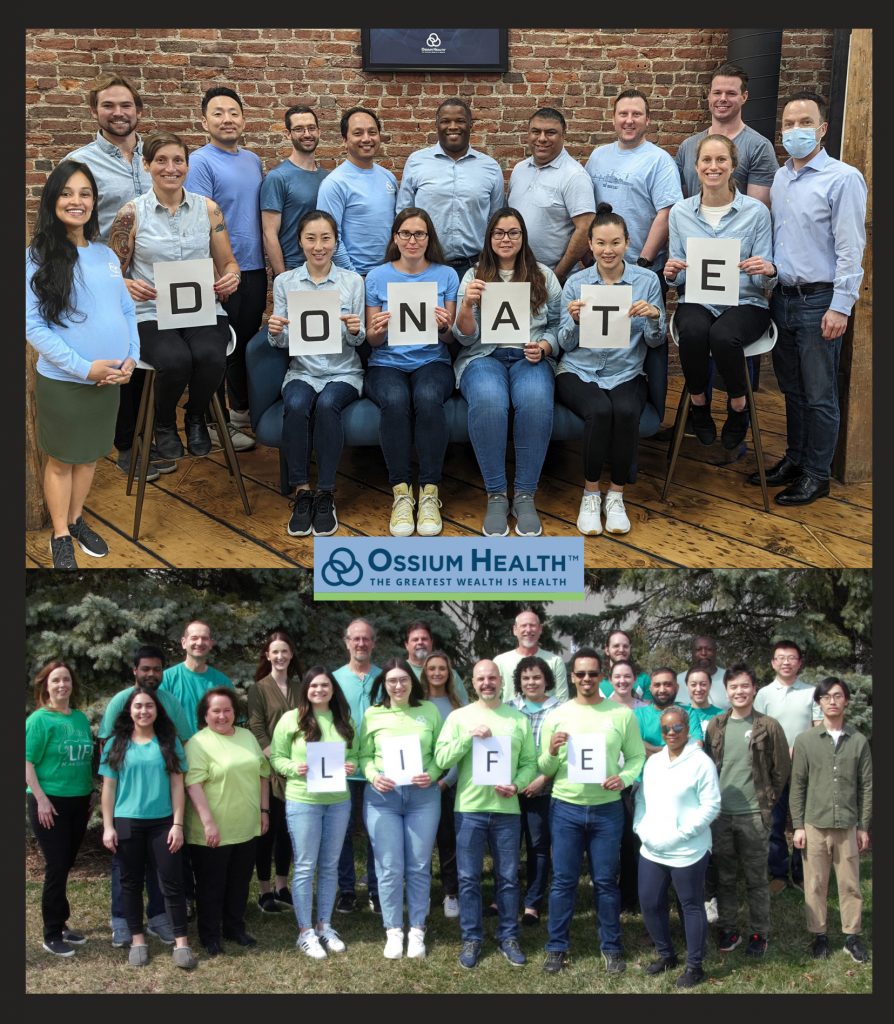 The San Francisco (top) and Indianapolis (bottom) Ossium teams wearing their Blue and Green for Donate Life Month
---
This April, Ossium Health continues to be a proud supporter of National Donate Life Month. Founded in 2003 by Donate Life America and its partnering organizations, National Donate Life Month is an opportunity to celebrate those who have received transplants, to recognize those who continue to wait, to honor donors and donor families, and to thank registered donors for giving hope. It is also an opportunity to show appreciation for the many professionals – including researchers, advocates, volunteers, and healthcare providers – who serve the donation and transplant communities and make everything possible.
At Ossium, we'd like to give a special thanks to all of our partners and donation advocates at Organ Procurement Organizations (OPOs) around the country. OPOs are not-for-profit organizations responsible for recovering organs and tissues from deceased donors for transplantation, and they serve as the vital link between donors and patients waiting for life-saving organ transplants. Ossium's partnerships with OPOs are the foundation of our ability to develop cellular therapies for patients in need, and are a core component to our mission to improve the health, vitality, and longevity of human beings through bioengineering.
We'd also like to give a shout out to the Donor Team here at Ossium, which ensures that the most critical part of our work, acquiring donated tissue from donors, occurs smoothly. Members of the Donor Team share a common passion for organ and tissue donation, and fully understand just how precious the gift of life can be. In honor of National Donate Life Month, we've asked two members of our donor team to share what donation means to them; below are quotes from Karina Chavarria, our Senior Donor Manager, and Matt Ryll, our Senior Manager of Donor Field Services.
---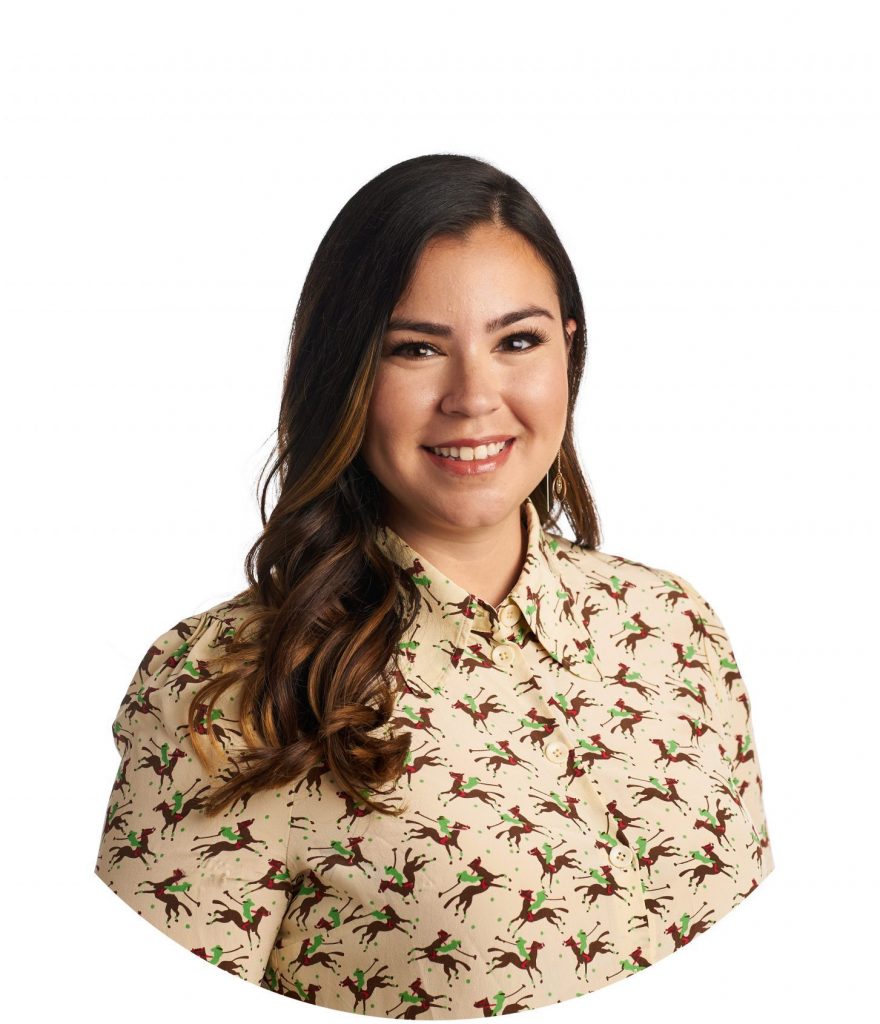 "Donation to me means our lives never end. Signing up to be a donor, or making that difficult decision as a family member at an unexpected time, is one of the most selfless acts you can ever make. There is a legacy in donation – one of hope, caring and support that enables at least one more person to continue this beautiful journey we call life. And it doesn't just end with that one person – there is a ripple through space and time for friends and family of that recipient. There really is no end to the gift of life."
– Karina Chavarria
Senior Donor Manager
---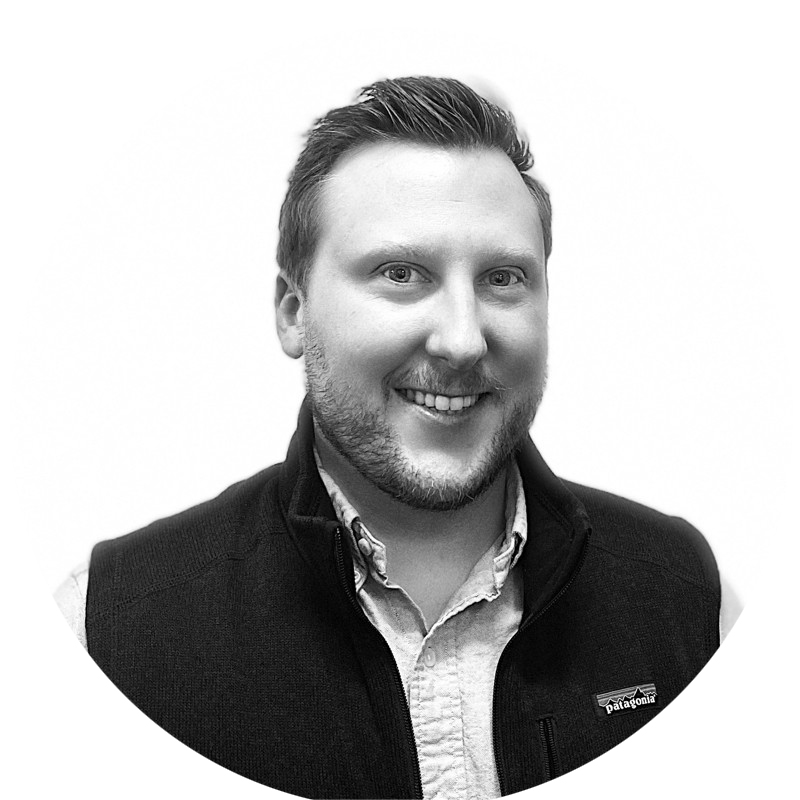 "Donation has touched my life in many ways, most importantly as a Donor Family. I know how impactful it can be to know that your loved one will continue to live on in others. It's my hope that knowing a family's loved one has the ability to save more lives, not just now but in the future, helps them through some of the toughest moments they will have to face."
– Matt Ryll
Senior Manager, Donor Field Services
---
Though Donate Life Month is certainly a time for gratitude and celebration, it is also a time to remember there is still a long road ahead. At this moment, there are more than 100,000 people across the country who are waiting for a lifesaving organ transplant. Thousands more are waiting for life-enhancing cornea and tissue transplants. This long waiting list and critical shortage of available organs and tissues leads to 17 people dying every day while awaiting transplant. However, there continues to be hope and progress, with 2021 being a record year in the donation and transplant world. Last year, more than 41,000 transplants were performed using organs from 20,300 donors, an increase of over 5% compared to 2020 and the first time ever the number of transplants exceeded 40,000.
While transplantation continues to increase substantially and meet the needs of many people with organ failure, we must join together and continue our efforts to shorten the waiting list and encourage our friends and family to become organ donors. If you or a loved one have not signed up as an organ donor, you can visit DonateLife.net or OrganDonor.gov to learn more and register to be an organ, eye, and tissue donor. Every individual who becomes a donor has the opportunity to save up to 8 lives via organ donation and heal the lives of more than 75 people through tissue and cornea donation.
From all of us at Ossium Health, we wish you a Happy National Donate Life Month, and we look forward to the day where every patient in need has access to life-saving organ and tissue transplants.